Nuka is the secondary antagonist of the film The Lion King II: Simba's Pride. He is the eldest child of Zira and the older brother of Vitani and Kovu.
Background
Nuka is the oldest son of Zira and was born at some point during Scar's reign as King of the Pride Lands. Sometime in between the events of The Lion King and The Lion King II: Simba's Pride, he was banished to the Outlands alongside Zira, his siblings and the rest of Scar's followers. Despite being the oldest of Zira's children, he is neglected by Zira in favor of Kovu, Scar's chosen heir.
Personality
Nuka is shown to be cowardly, somewhat slightly neurotic. However, he has an inflated opinion of himself, as he claims to be the strongest and the smartest. Considering his feelings of inadequacy and bitterness over his pride's favoritism towards Kovu, however, it is likely his egotism is, in fact, a defense mechanism to shield his insecurities and grant himself a sense of self-worth. Because he is neglected by Zira in favor of Kovu, Nuka is shown to have a strong, envious sibling rivalry for his younger brother. He also desires to please his mother, in order to get her attention, which eventually leads to his downfall. This makes him somewhat of a tragic figure and a complex character, as he is motivated by a longing for the praise and love Kovu receives from Zira more than anything else.
In addition, it is implied that Nuka has some mental and emotional instability, including pyromania, as evidenced by when, before proceeding to burn a large part of the Pride Lands to trick Simba into allowing Kovu into the pride as part of Zira's plan, he shouts "Woo! Fire!" He also has a sarcastic side, sarcastically calling Kovu "the Chosen One" when out of sight, and a wicked side to him cutting a branch Vitani is pulling, giving out a wicked laugh when she falls backward.
While not the brightest lion, Nuka has learned that life is hard, especially in the Outlands, and he expects Kovu to take care of himself, even as a cub. He knows better than to anger or disobey his mother, after letting his brother wander off for the last time and nearly hurting Jasiri against Zira's orders. From now on, he will accept whatever task he is given, whether he likes it or not.
At the end, Nuka gets the courage to go after Simba himself, but it costs him his life. In fact, in his passing, he is the only offspring to remain loyal to his mother and her cause.
Physical Description
Nuka is extremely mangy and is apparently infested with termites (partly due to living in a termite mound). He has brown fur and a black mane and keeps his front claws unsheathed, a trait seen in all the Outsiders. Judging from the thickness of his mane in his first appearance, he would be about a year and a half old. Despite being older than Kovu, his mane does not grow in as thickly - a trait seen in real lions, where stronger lions usually have thicker, fuller manes.
Appearances
In the film, Nuka is shown as a teenager at the home of the Outsiders, arguing with his younger sister, Vitani, over Kovu. Nuka has apparently left Kovu alone, despite being asked to babysit him, and it is implied that this sometimes happens. Nuka expresses his jealousy over Kovu's position as Scar's chosen heir, as he was passed over despite being the oldest of Zira's children. He states his intention to tell his mother that he should be the heir, but quickly backs down after Zira returns and scolds him for not watching Kovu. Nuka watches as Zira makes a plan to have Kovu get close to Kiara so that Kovu can eventually kill Simba. When Zira lavishes a praising comparison of Kovu to Scar to the cub for his supposed brilliance and "conniving mind," Nuka groans in disgust only to be silenced by a growl from Zira and mutters "Chosen One" bitterly, as the two make their leave. Though Nuka likes the idea of killing Simba, he shows displeasure when Kovu's part in the plot is mentioned.
Nuka's next major appearance is as an adult, wandering the abandoned elephant graveyard with Vitani. The two have been tasked with setting a wildfire while Simba's daughter, Kiara, is out on her first hunt. He expresses subtle revulsion at their surroundings, denying Vitani's dismissal of his repulsion as fear. He is shown to continue to resent Kovu's position as an heir and his mother's favoritism towards him, but he will obey Zira's will regardless. Zira's plot is to have Kovu rescue Kiara from the fire, to allow Kovu to get close to Simba and kill him.
The plan is successful, as Kovu saves Kiara from the wildfire, and is allowed to return to the Pride Lands. Nuka secretly follows the pride alongside his mother, in order to spy on Kovu. Whilst the two are watching Kovu's conversation with Kiara, Nuka furiously reacts when his brother makes no attempt to kill her but Zira hushes his protests, noting that with Kovu and Kiara growing closer, the goal of Simba's death is close to being reached. Nuka listens carefully and as he puts the pieces together, he notices Zira getting ready to swipe her paw at the tree branch standing behind him. He ducks just in time.
When it appears that Kovu is beginning to have second thoughts about his role in Zira's plot, Nuka accompanies the Outsiders as part of an ambush, to try to kill Simba. As Zira orders the attack, Nuka is the first to tackle Simba, yet is swatted away. Simba is then cornered in a ravine and is forced to climb a log dam to escape. When Kovu refuses Zira's order to kill Simba, Nuka impulsively decides to do it himself, exclaiming, "I'll do it - for you, Mother! Mother, are you watching?! I'm doing it for you... and I'm doing it for me!"
While briefly grabbing Simba's ankle, his claws digging in, Nuka feels on the verge of triumph. But suddenly, he slips and falls, ending up being crushed under several logs. Kovu rushes forward to dig him out but is knocked aside by the frantic Zira, who finishes the job herself. Nuka succumbs to his injuries, after apologizing to his mother for his failure. Ironically, through his death, he finally gains his mother's attention and affection. After Zira asks the late Scar to watch over her "poor" Nuka, she blames Kovu for his brother's death and slashes him across the face, which leaves him with a scar on his face.
The film draws parallels between the relationships of Scar and Mufasa and Nuka and Kovu. Scar became jealous of Mufasa's kingship and Simba's potential passage to the throne, which left him out of the direct succession. Nuka has similar feelings towards Kovu, but as he is somewhat less intelligent and more panicky than Scar was, and also because he desires to gain his mother's approval, his jealousy comes across as more 'goofy' than evil.
In an original cut of the film, Nuka's death scene is extended. After Nuka, being crushed in the logs, says "I'm sorry, Mother. I tried." Zira manages to reach her paw to cradle his head gently. Pleased with Zira's affection towards him, Nuka says "Well, I finally got your attention, didn't I?" before he finally dies.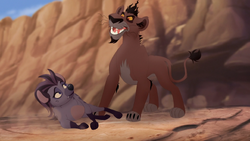 Nuka along with Kovu, Vitani, Zira and their pride appear in the Disney Junior series The Lion Guard episode "Lions of the Outlands", which takes place in the middle of Simba's Pride. He is first seen ambushing Jasiri, telling her to stay away from the watering hole, only to bested by Kion. When Zira makes Kion use the Roar to create rain, Nuka watches in slight awe and fear. Later, he tries to "hunt" Jasiri, only to stop after hearing Zira's voice.
Nuka gains the confidence to attack Kion upfront, once Zira tells him that Kion can't use the Roar on other lions, but he ends up getting knocked aside. When the rest of the Lion Guard come to Kion's rescue and attack the Outsiders, Nuka desperately seeks Zira's advice on what should be done next. He then stands at his mother's side as the Outsiders regroup, outnumbering the Lion Guard almost two to one. Once it is revealed that Scar had lost the Roar by using it for evil, Nuka is seen looking confused. The Outsiders are soon blasted out of the Outlands by Kion to the termite mounds, with Nuka being the first to land before everyone else.
Gallery
Trivia
In some Simba's Pride books, Nuka is referred to as Zira's second-in-command. It is unclear whether this is true or not as the spot seems to belong to Vitani in the second half of the film. It is possible that Vitani gains the position after Nuka's death.
Nuka can still be heard saying, "Didn't I?" during the finalized film, possibly apart from the deleted scene the editors forgot to cut out. It, however, is colored and could be intentional. It is often mistaken for a groan of pain.
Nuka's mane swaps between black and dark brown frequently throughout the film while his beard and elbow tufts stay black. His mane remains primarily black, though.
Nuka is the only Outsider who wants to kill King Simba for reasons not applying to avenge Scar's death.
Since The Lion King II: Simba's Pride is adapted from Romeo & Juliet, Nuka is most likely based on Tybalt in that he is Kovu's rival, the same way Tybalt is Romeo's, and their deaths heightened the tensions in their respective stories. The only difference is that Tybalt and Romeo were members of two opposing factions (the Capulets and the Montagues, respectively) while Nuka and Kovu were actually part of the same faction (the Outsiders) and technically brothers.
Zira appears to love him as well as Kovu and Vitani but was too focused on Kovu becoming Simba's murderer that she paid too less attention to him.
In an earlier draft of the movie, Nuka was supposed to be a serious villain rather than the comic relief he was in the final movie.
Zira and Nuka are the only two villains in the film who are not redeemed.
Despite being listed as enemies with Nala and Kiara, Nuka doesn't interact with either one of them in the film at all.
Despite his resentment towards Kovu in The Lion King II, they appear to have a decent relationship in The Lion Guard.
There are similarities between Nuka and Mufasa's death scenes, as they take place in the same area and the King from each movie is seen climbing to safety. However, the positions Scar and Nuka take are very different and very reversed. Whereas Scar uses the high ground before killing his brother, Nuka chases after Simba up the dam.
v - e - d
Episodes
Timon & Pumbaa
Season One: "Boara Boara" • "Saskatchewan Catch" • "Kenya Be My Friend?" • "Good Mousekeeping" • "Brazil Nuts" • "South Sea Sick/The Lion Sleeps Tonight" • "Never Everglades" • "Cooked Goose" • "Yukon Con" • "Doubt of Africa" • "How to Beat the High Costa Rica" • "Swiss Missed" • "Russia Hour" • "You Ghana Join the Club" • "Uganda Be an Elephant" • "To Kilimanjaro Bird" • "Rocky Mountain Lie" • "Amazon Quiver" • "French Fried" • "Big Top Breakfast" • "Madagascar About You" • "Truth or Zaire/Yummy, Yummy, Yummy" • "Mojave Desserted" • "Beauty and the Wildebeest" • "Don't Break the China" • "Can't Take a Yolk" • "Stand by Me" • "The Pain in Spain" • "Frantic Atlantic" • "Unlucky in Lesotho" • "Rafiki's Apprentice" • "Tanzania Zany" • "Guatemala Malarkey" • "Mombasa-In-Law" • "TV Dinner" • "Back Out in the Outback" • "Gabon with the Wind" • "Timon's Time Togo" • "The Law of the Jungle" • "Manhattan Mishap" • "Paraguay Parable" • "Be More Pacific" • "Going Uruguay" • "Let's Serengeti Out of Here" • "Congo on Like This" • "Okay Bayou?" • "Shake Your Djibouti" • "Yosemite Remedy" • "The Sky is Calling" • "Mozam-Beaked" • "Ocean Commotion"
Season Two: "Palm Beached" • "Jamaica Mistake?" • "Oregon Astray" • "New Guinea Pig" • "Isle of Manhood" • "Puttin' on the Brits" • "Klondike Con" • "Isle Find Out" • "Beetle Romania" • "Rumble in the Jungle" • "Wide Awake in Wonderland" • "Zazu's Off-by-One Day" • "Animal Barn" • "Roach Hotel" • "Africa-Dabra!" • "I Don't Bolivia" • "Shopping Mauled" • "Library Brouhaha" • "Catch Me if You Kenya" • "Scent of the South" • "Monster Massachusetts" • "Handle with Caribbean" • "Forbidden Pumbaa" • "Washington Applesauce" • "Alcatraz Mataz" • "Oahu Wahoo" • "I Think I Canada" • "Zazu's Off Day Off" • "Beast of Eden" • "Sense & Senegambia" • "Timon on the Range" • "The Man from J.U.N.G.L.E." • "Maine-Iacs" • "Fiji-Fi-Fo-Fum" • "Rome Alone" • "Amusement Bark" • "Once Upon a Timon" • "Home is Where the Hog Is" • "Beethoven's Whiff" • "Bumble in the Jungle" • "Mind Over Matterhorn"
Season Three: "Whiff" • "To Be Bee or Not to Be Bee" • "Luck Be a Meerkat" • "Just When You Thought You'd Cuisine it All" • "Lemonade Stand Off" • "Big Jungle Game" • "Boo Hoo Bouquet" • "So Sumo Me" • "Now Museum, Now You Don't" • "Visiting Pig-nitaries" • "The Truth About Kats and Hogs" • "Escape from Newark" • "Truth Be Told" • "Circus Jerks" • "Nest Best Thing" • "Super Hog-O" • "Don't Have the Vegas Idea" • "Hot Enough for Ya?" • "Werehog of London" • "Bigfoot, Littlebrain" • "Astro-Nots" • "Robin Hoodwinked" • "Seregenti Western" • "All Pets are Off" • "Two for the Zoo" • "The Swine in the Stone" • "You May Have Already Won Six Million Bakra" • "My Meteor, My Friend" • "Jungle Slickers" • "Don't Wake the Neighbear" • "Recipe for Disaster" • "Going Over-Boar'd" • "Ivy Beleaguered" • "Broadway Bound & Gagged" • "Steel Hog" • "Dealer's Choice Cut" • "Space Ham" • "You Bet Your Tukhus" • "No-Good Samaritan" • "Living in De Nile" • "One Tough Bug" • "Pirates of Pumbzance" • "Miss Perfect" • "Hakuna Matata U." • "Pig-Malion" • "Why No Rhino" • "War Hogs" • "The Big No Sleep" • "Common Scents" • "Mister Twister" • "Don't Be Elfish" • "Lights, Camera, Traction" • "The Running of the Bullies" • "Special Defects" • "Wishy Washy" • "Ice Escapades" • "Guru-Some" • "Jailhouse Shock" • "Nearly Departed" • "Early Bird Watchers" • "The Spy's the Limit" • "Ready, Aim, Fire" • "Timoncchio" • "Ghost Boosters" • "Stay Away from my Honey!" • "Sitting Pretty Awful" • "He's a Bad, Bad, Bad Sport" • "Dapper Duck Burgers" • "It Runs Good" • "Hot Air Buffoons" • "Timon in Love" • "Kahuna Potato" • "Mook Island" • "Cliphangers"
The Lion Guard
Season One: "Never Judge a Hyena by its Spots" • "The Rise of Makuu" • ""Bunga the Wise" • "Can't Wait to be Queen" • "Eye of the Beholder" • "The Kupatana Celebration" • "Fuli's New Family" • "The Search for Utamu" • "Follow That Hippo!" • "Call of the Drongo" • "Paintings and Predictions" • "The Mbali Fields Migration" • "Bunga and the King" • "The Imaginary Okapi" • "Too Many Termites" • "The Trouble With Galagos" • "Janja's New Crew" • "Baboons!" • "Beware the Zimwi" • "Lions of the Outlands" • "Never Roar Again" • "The Lost Gorillas" • "The Trail to Udugu" • "Ono's Idol" • "Beshte and the Hippo Lanes" • "Ono the Tickbird"
Season Two: "Babysitter Bunga" • "The Savannah Summit" • "The Traveling Baboon Show" • "Ono and the Egg" • "The Rise of Scar" • "Let Sleeping Crocs Lie" • "Swept Away" • "Rafiki's New Neighbors" • "Rescue in the Outlands" • "The Ukumbusho Tradition" • "The Bite of Kenge" • "Timon and Pumbaa's Christmas" • "The Morning Report" • "The Golden Zebra" • "The Little Guy" • "Divide and Conquer"