Not In Nottingham
Comment

1
25,548pages on
this wiki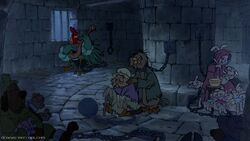 Not In Nottingham
is a song featured in the film
Robin Hood
. It takes place with rain and the animals in jail. This song is sung by
Alan-A-Dale
(
Roger Miller
).
The song was covered by Mumford & Sons during their sessions with Daytrotter.
Lyrics
Every town
Has its ups and down
Sometimes ups
Outnumber the downs
But not in Nottingham
I'm inclined to believe
If we were so down
We'd up and leave
We'd up and fly if we had wings for flyin'
Can't you see the tears we're cryin'?
Can't there be some happiness for me?
Not in Nottingham
| | |
| --- | --- |
| | This page uses content from the English Wikipedia. The article or pieces of the original article was at Not In Nottingham. The list of authors can be seen in the page history. As with Disney Wiki, the text of Wikipedia is available under the GNU Free Documentation License. |