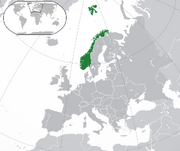 Officially the
Kingdom of Norway
, is a Nordic unitary constitutional monarchy whose territory comprises the western portion of the Scandinavian Peninsula, Jan Mayen, the Arctic archipelago of Svalbard and the sub-antarctic Bouvet Island. Norway has a total area of 385,252 square kilometers (148,747 square miles) and a population of about five million. It is the second least densely populated country in Europe. The majority of the country shares a border to the east with
Sweden
; its northernmost region is bordered by Finland to the south and Russia to the east; in its south Norway borders the Skagerrak Strait across from
Denmark
. The capital and largest city of Norway is
Oslo
. The country's second largest city is Bergen while the third largest is Trondheim and the fourth is Stavanger. Norway's extensive coastline, facing the North Atlantic Ocean and the Barents Sea, is home to its famous fjords.
Films
Attractions
Actors and Crew born in Norway
Characters originating in Norway
Gallery
External links
Ad blocker interference detected!
Wikia is a free-to-use site that makes money from advertising. We have a modified experience for viewers using ad blockers

Wikia is not accessible if you've made further modifications. Remove the custom ad blocker rule(s) and the page will load as expected.