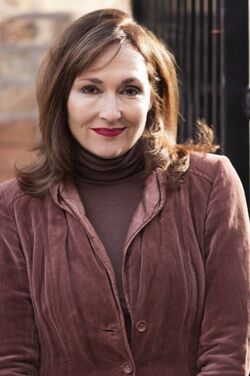 Nora Dunn (born April 29, 1952) is an American actress who played Cynthia Schreiber in Born Yesterday, Lindy in the 1994 Touchstone Pictures film I Love Trouble, Natalya in Air Bud: Golden Receiver, Lily Keeble in Max Keeble's Big Move, Ally Loman in the Universal Studios/Touchstone Pictures film Bruce Almighty, Lauren in the CBS/ABC Studios TV show Criminal Minds, Cheryl in the ABC TV show Samantha Who?, Dr. Ginsberg in the ABC TV show Private Practice, Linda in the ABC TV show The Neighbors, Michelle Graybar in the ABC Family TV show Three Moon Over Milford and Janet Smythe in Best Friends Whenever.
Disney Roles
Ad blocker interference detected!
Wikia is a free-to-use site that makes money from advertising. We have a modified experience for viewers using ad blockers

Wikia is not accessible if you've made further modifications. Remove the custom ad blocker rule(s) and the page will load as expected.