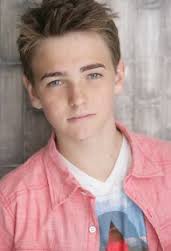 Noah Harden
(born
May 20
,
1999
) is a American actor.
As a native of Missouri, Noah began his acting career at the age of nine with Creative Actors under acting coaches Scott-Arthur and Elizabeth Allen. He took weekly classes there, with adults, for 2 yrs, before moving to Los Angeles, CA, where he currently resides.
Noah has done multiple National commercials, as well as acting in television and film. He starred in Disney's Dog With a Blog as Dustin Pitt, and in films such as Last Vegas, where he plays the younger version of Michael Douglas's character, and Rise of the Lonestar Ranger, where he plays the young Buck Duane.
When not working, Noah enjoys playing sports. A natural athlete, he excels in most sports, but spend's most of his time doing parkour, basketball, soccer, and football.
Ad blocker interference detected!
Wikia is a free-to-use site that makes money from advertising. We have a modified experience for viewers using ad blockers

Wikia is not accessible if you've made further modifications. Remove the custom ad blocker rule(s) and the page will load as expected.