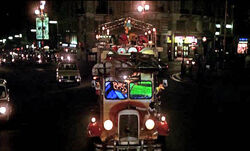 "Night Life" is performed by Dr. Teeth and the Electric Mayhem, on top of the Happiness Hotel bus, as the Muppets drive to the Dubonnet Club in The Great Muppet Caper.
Some versions of the movie, such as those aired on TV in some markets and the 1984 CBS/Fox VHS release, feature only an instrumental version of the song without any lyrics.[1]
In 2011, Brandon Saller and Billy Martin performed the song on "The Green Album".
Lyrics
Gimme my good friends
And play me my music, yeah!
Gimme my night life

Talk me that guitar
And roll me that boogie, yeah!
Gimme my night life

Dance in the moonlight
We'll rock until dawn
And if you can't dig it, baby
I'm movin' on

Sing me the good times
'Cause I need the feelin', yeah
Gimme my night life
Gimme my night life
Gimme my night life
And if you can't dig it, baby
I'm movin' on

Sing me the good times
'Cause I need the feelin', yeah
Gimme my night life
Gimme my night life

Sources