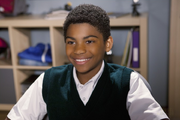 Nigel
 is a character who appears in ReplicANT. He is a student from
London, England
. He's also an artistic genius, as in drama, and used a robot to attend school remotely. He is an A.N.T. who Chyna had a crush on, which caused Fletcher to become jealous and try to ruin their date. By the end of the episode, Chyna said she wasn't ready for a boyfriend who was a robot. She hoped that one day they would meet in person. He is portrayed by Noah Alexander Gerry. The strange thing about Nigel is he attends the American A.N.T. as a robot, because it is to far away, but in EndurANTs, it was revealed that there are A.N.T. programs in many countries, specifically in England.
Ad blocker interference detected!
Wikia is a free-to-use site that makes money from advertising. We have a modified experience for viewers using ad blockers

Wikia is not accessible if you've made further modifications. Remove the custom ad blocker rule(s) and the page will load as expected.