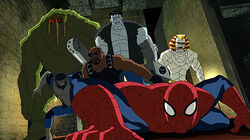 The Howling Commandos are a team formed and led by Nick Fury. The original incarnation consisted of World War II soldiers; the current version consists of supernatural monsters.
Howling Commandoes (World War Two)
Nick Fury's Howling Commandoes
Additional Members
Enemies
Appearances
Marvel Cinematic Universe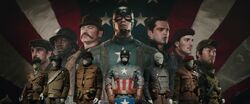 The Howling Commandos, unlike the comics, were a team of average humans (exempting their leader,
Captain America
, and possibly
Bucky Barnes
) under the SSR during World War II, where they fought against the
HYDRA
forces led by the
Red Skull
. In addition, Captain America, not Nick Fury, was the founder and leader of the unit. They were made up of Dum Dum Dugan, Jim Morita, Gabe Jones, James Montgomery Falsworth, and Jacques Dernier, as well as Captain America and Bucky Barnes. All the members joined the unit to repay Captain America (and in the case of Bucky Barnes, Steve Rogers) for saving them in Italy. By the end of the war, Bucky Barnes was believed to be the only casualty within the unit. By the time Captain America was thawed out of the Arctic, all the surviving members of the unit with the exception of Jim Mortia and James Falsworth had died and Peggy Carter had retired, leaving Captain America as the only known surviving member of the unit until Bucky Barnes was revealed to be the Winter Soldier.
In Agents of S.H.I.E.L.D., the Howling Commandos led by Peggy Carter went to Austria to arrest senior members of HYDRA. During the procedure they find a mysterious blue body inside a box.
Gallery