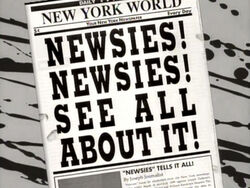 Newsies! Newsies! See All About It! is a behind the scenes documentary/preview of Newsies. It aired on the Disney Channel on March 28, 1992 and was directed by Gayle Hollenbaugh. The documentary was a Disney Channel special that took viewers behind the scenes during the making of the film. It's hosted by Max Casella (Racetrack), Aaron Lohr (Mush), and Arvie Lowe, Jr. (Boots), though we also hear from much of the cast, as well as director Kenny Ortega. The narration from Casella, Lohr, and Lowe play up on how fun the production was, even in spite of their mandatory schooling, intense rehearsals, and early morning starts. Some of the more interesting pieces of footage include Christian Bale's deleted lasso sequence for "Santa Fe," unused lyrics from "Carryin' the Banner," and the cast singing together in the recording studio. It was included on the film's 20th Anniversary Edition Blu-ray and Collector's Edition DVD.
Gallery
Ad blocker interference detected!
Wikia is a free-to-use site that makes money from advertising. We have a modified experience for viewers using ad blockers

Wikia is not accessible if you've made further modifications. Remove the custom ad blocker rule(s) and the page will load as expected.