"
New Monsterkid on the Block
" is the second segment of the eighteenth episode of
Henry Hugglemonster
. It premiered on
August 9
,
2013
alongside "
The Mighty Heromonsters
".
Synopsis
When Henry and his friends need an extra player for Huggleball, Henry invites the new monster kid on the block to play. But the new monster kid, Roddy Cloudmonster, starts to bully everyone.
Trivia
On DirecTV and other cable systems, it is stated that this episode is broadcasted before "The Mighty Heromonsters", though on television, this episode is shown after "The Mighty Heromonsters".
v - e - d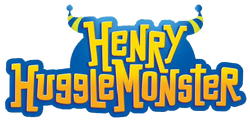 Songs
Have a Henry Hugglemonster Day • Open Up, Flower • Happy Hugglemonster Day • Super Summer Sleepy Song • Close Your Eyes, Ivor • The Summer Song • The Roar Off • Gotta Get a Grip • The Ballad of Beckett • The S'more Roars Song • Summer's Birthday Song • Number One Fan! • Roar it Up! • Welcome to Our Home • The Sneezo Story • Huggleball Anthem • The Stuck Inside Blues • Flutterby/Powerdrive Mash-up Mega Mix • Huggletastic Hugglejuice • Robot Groove • Momma Monster Mia • About a Shoe • The Summer Swirl • Roartastically Beautiful • I'm Working • Hugglemonster Manners • Wanna Touch the Sky • Being Big's Roarsome and How • Monster Heart • Grrrrls Just Wanna Roar • The Roaring Lion • Who Needs a Fang? • The Hugglemonster Way • The Pirouette Song • Time Zooms By • My Brother • Heromonsters Woohoo! • The Friendliest Place Ever • To Monsterschool • Summergrams for You • My Happiest Day • I've Got Pizzazz • House Sledding/Sled Dancing • Momma Makeover/Pick it Up • I Can Do This! • Save the Glimmergrove • Dare to Scare • Big Big Baby • You Go Well Together • Catch That Cake • More Than One Way to Save the Day • Make Your Own Fun! • So, So Roarsome • Everybody's Good at Something • Knit it Up • Play By the Rules • That'll Be a Happy Huggleween • One Small Stomp • The Monster Moon • When I'm Frightened • Roarsville Rovers Anthem • We've Got the Bug for a Birthday Bash • Bubble Huggin' • K-Growl Jingle • Every Word That I Say • Everything That You Are • Baby Bro Blues • Close Your Eyes • Our Way is Better • No One Way is Better • Monster Holiday • Jingle Howls • We Wish You a Happy Hugglemas • Hugglemas Carol Medley • Dress Up Disaster • Dress That Disaster Away • The Dudes' Day Duet