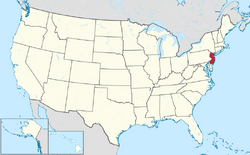 New Jersey
is a state in the Northeastern and Middle Atlantic regions of the
United States
. It is bordered on the north and east by the U.S. state of New York, on the southeast and south by the Atlantic Ocean, on the west by Pennsylvania, and on the southwest by
Delaware
. New Jersey is the 4th least extensive, but the 11th most populous and the most densely populated of the 50 United States. New Jersey lies mostly within the sprawling metropolitan areas of New York City and Philadelphia. It is also the third wealthiest by 2009–2010 median household income.
The area was inhabited by Native Americans for more than 2,800 years, with historical tribes such as the Lenape along the coast. In the early 17th century, the Dutch and the Swedes made the first European settlements. The British later seized control of the region, naming it the Province of New Jersey. It was granted as a colony to Sir George Carteret and John Berkeley, 1st Baron Berkeley of Stratton. At this time, it was named after the largest of the British Channel Islands, Jersey, Carteret's birthplace. New Jersey was the site of several decisive battles during the American Revolutionary War.
New Jersey is bordered on the north and northeast by New York (parts of which are across the Hudson River, Upper New York Bay, the Kill Van Kull, Newark Bay, and the Arthur Kill); on the east by the Atlantic Ocean; on the southwest by Delaware across Delaware Bay; and on the west by Pennsylvania across the Delaware River.
Films and Shows
Cities and Locations
Actors and Crew born in New Jersey
Gallery
Ad blocker interference detected!
Wikia is a free-to-use site that makes money from advertising. We have a modified experience for viewers using ad blockers

Wikia is not accessible if you've made further modifications. Remove the custom ad blocker rule(s) and the page will load as expected.