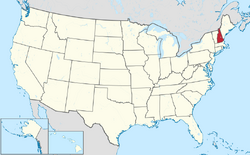 New Hampshire
is a state in the New England region of the northeastern
United States
of America. The state was named after the southern English county of Hampshire. It is bordered by
Massachusetts
to the south,
Vermont
to the west,
Maine
and the Atlantic Ocean to the east, and the
Canadian
province of Quebec to the north. New Hampshire is the 5th least extensive and the 9th least populous of the 50 U.S. states.
It became the first of the British North American colony to break away from Great Britain in January 1776, and six months later was one of the original thirteen states that founded the United States of America. In June 1788, it became the ninth state to ratify the United States Constitution, bringing that document into effect. New Hampshire was the first U.S. state to have its own state constitution.
Locations
Actors and Crew born in New Hampshire
Gallery