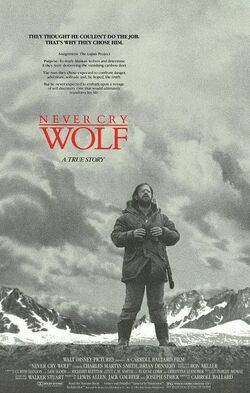 Never Cry Wolf
is a
1983
American drama film directed by Carroll Ballard. The film is an adaption of
Farley Mowat
's 1963 autobiography of the same name and stars Charles Martin Smith as a government biologist sent into the wilderness to study the caribou population, whose decline is believed to be caused by wolves, even though no one has seen a wolf kill a caribou. Although Smith is the only actor starring in most of the film it also features Brian Dennehy and Zachary Ittimangnaq. It was the first film to be released under the Walt Disney Pictures label.
The film has been credited as being responsible for the creation of Touchstone Pictures. At the time Walt Disney Pictures, then under the guidance of Walt Disney's son-in-law Ron W. Miller, was experimenting with more mature plot material in its films and the following year started Touchstone Pictures.
The narration for the film was written by Charles Martin Smith, Eugene Corr and Christina Luescher.
Plot
The wolves of the Arctic Circle and its environs, the stunning beauty of a Northern winter, a biologist who braves it all to record the lives of the wolves, and Inuits who save the biologist's hide and share their own wisdom openly are all winners in this film that is a tribute to the skills of writer and director Carroll Ballard (The Black Stallion). Based on Farley Mowat's autobiographical novel of the same name, Tyler (Charles Martin Smith) is a normal biologist until he gets up into the Arctic winter in order to prove that the caribou herds are not being decimated by wolves; then he becomes a semi-klutz, unable to instinctively adapt to the deep freeze around him. After he sets up his first stake-out, a native Inuit named Oolek (Zachary Ittimangnaq) comes along to help him out and gets him better established in an isolated hut, where Tyler is left to fend for himself again. That he does, but not because he can see in advance what his needs or problems are going to be -- he just comes up against the worst when it happens and works from there. At the same time, Tyler gets to carefully and closely observe a wolf family he has already dubbed as George, Angeline, and the three pups, and he has several comic interactions with his distant "pets." Oolek and his friend Mike (Samson Jorah) drop by to keep Tyler company for awhile, sharing their observations on nature and life in an easy-going, non-committal manner. With Tyler's perseverance and the knowledge gained from experience and through these conversations, the real culprit in the decimation of the caribou turns out not to have four legs at all.
Cast
Charles Martin Smith as Tyler, a biologist without any survival skills, yet brave enough to study wolves in their environment.
Brian Dennehy as Rosie, the bush-pilot, a care-free type who exploits the region for money.
Zachary Ittimangnaq as Ootek, an Inuit who helps Tyler survive the wilderness.
Samson Jorah as Mike
Hugh Webster as Drunk
Martha Ittimangnaq as Woman
Tom Dahlgren as Hunter #1
Walker Stuart as Hunter #2
Production
The film's fundamental premise is that life in the Arctic seems to be about dying: not only are the caribou and the wolves dying, but the indigenous Inuit people as well. The animals are losing their habitat and the Inuit are losing their land and their resources while their youth are being seduced by modernity. They are trading what is real, true, and their time-honored traditions for the perceived comforts of the modern world.
Never Cry Wolf blends the documentary film style with the narrative elements of drama, resulting in a type of docudrama. It was originally written for the screen by Sam Hamm but the screenplay was altered over time and Hamm ended up sharing credit with Curtis Hanson and Richard Kletter.
The picture is the first Walt Disney film to show naked adult buttocks. (of actor Charles Martin Smith).
Smith, who had previously worked with Disney on films such as No Deposit, No Return and Herbie Goes Bananas, devoted almost three years to Never Cry Wolf. Smith wrote, "I was much more closely involved in that picture than I had been in any other film. Not only acting, but writing and the whole creative process." He also found the process difficult. "During much of the two-year shooting schedule in Canada's Yukon and in Nome, Alaska, I was the only actor present. It was the loneliest film I've ever worked on," Smith said.
L. David Mech, an internationally recognized wolf expert who has researched wolves since 1958 in places such as Minnesota, Canada, Italy, Alaska, Yellowstone National Park, and on Isle Royale, criticized the work, stating that Mowat is no scientist and that in all of Mech's own studies, he had never encountered a wolf pack that regularly subsisted on small prey, as related in Mowat's book or in the film adaptation.
Filming locations
The film locations included Nome, Alaska, the Yukon Territory, and British Columbia, Canada.
Reception
Critical response
When the film was released, a review in the Los Angeles Times called the film, "...subtle, complex and hypnotic...triumphant filmmaking!"
Brendon Hanley of Allmovie also liked the film, especially Smith's performance, and wrote, "Wolf's protagonist is wonderfully played by the reliable character actor Charles Martin Smith...The result is a quirky, deceptively simple meditation on life."
Ronald Holloway, film critic of Variety magazine, gave the film a mostly positive review, and wrote "For the masses out there who love nature films, and even those who don't, Carroll Ballard's more than fits the commercial bill and should score well too with critical suds on several counts."
Some critics found the premise of the film a bit hard to believe. Vincent Canby, film critic for The New York Times, wrote, "I find it difficult to accept the fact that the biologist, just after an airplane has left him in the middle of an icy wilderness, in a snowstorm, would promptly get out his typewriter and, wearing woolen gloves, attempt to type up his initial reactions. Canby added, the film was "a perfectly decent if unexceptional screen adaptation of Farley Mowat's best-selling book about the author's life among Arctic wolves."
The review aggregation website Rotten Tomatoes gives the film a score of 100% based on reviews from 17 critics, with an average rating of 7.7 out of 10.
Awards
Wins
Boston Society of Film Critics Awards: 4th BSFC Award; Best Cinematography, Hiro Narita; 1984.
Hawaii International Film Festival: Excellence in Cinematography Award, Hiro Narita; 1984.
Motion Picture Sound Editors: Golden Reel Award; Best Sound Editing - Sound Effects; 1984.
National Society of Film Critics Awards: NSFC Award Best Cinematography, Hiro Narita; 1984.
Western Heritage Awards: Bronze Wrangler; Theatrical Motion Picture, Carroll Ballard; 1984.
Nominations
Academy Awards: Best Sound; Alan Splet, Todd Boekelheide, Randy Thom and David Parker; 1984.
Box office
The film opened in limited release October 7, 1983 and went into wide circulation January 20, 1984.
The film was in theaters for 192 days (27 weeks) and the total US gross sales were $27,668,764. In its widest release the film appeared in 540 theaters.
Comparisons to book
There are several differences in the film when compared to Mowat's book. In the book, Ootek and Mike's roles are reversed, Mike is actually Ootek's older brother (Ootek is a teenager) and Ootek speaks fluent English and communicates openly with Mowat while Mike is more reserved.
The film adds a more spiritual element to the story while the book was a straightforward story. The film also isolates the characters while in the book, Mowat meets several people from different areas of the Arctic.
Also in the book, the wolves are not killed and neither did the bush pilot bring in investors to build a resort.
Gallery