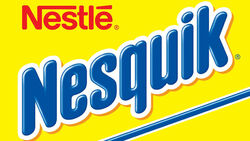 Nesquik is a brand of products made by Nestlé which began as a chocolate powdered flavoring mix in the United States in 1948, as Nestlé Quik. Although not owned by Disney, Nesquik does some promotion for Disney in the U.S. in the 1990s and often in other countries to this day. A Nesquik-sand pit was named after the Nesquik chocolate powdered flavoring mix in Wreck-It Ralph.
Gallery
Trivia
During the tie-in promotion for Wreck-It Ralph in 2012, Nestle USA recalled 200,000 cans of Nesquik for possible Salmonella Contamination.
Ad blocker interference detected!
Wikia is a free-to-use site that makes money from advertising. We have a modified experience for viewers using ad blockers

Wikia is not accessible if you've made further modifications. Remove the custom ad blocker rule(s) and the page will load as expected.