"Minkoff and Allers then mentioned how they'd joked about this during production, tossed around some off-color gags, and eventually decided that they just "hoped nobody would notice"."
―The Lion King Tenth Anniversary Reunion Panel.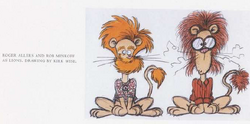 Nala's father is a character who remains largely unknown.
Information
Contrary to belief, the directors of The Lion King did contemplate who Nala's father might've been. Albeit jokingly said, he was at least thought about as a character, but had no place in the movie. In the end, the two directors just hoped no one would notice his absence, effectively scrapping him.
Trivia
It is unknown whether he would be Mheetu's father as well, though he probably wouldn't as Mheetu was deleted by then thus couldn't be fathered.
In The Lion King 1½ trivia game, he is mentioned as an option to one of the questions.
In 2004, when asked about who is Nala's father, according to Brian Tiemann, Minkoff, and Allers "began laughing, ribbing each other, making little sidelong jibes". Eventually, Minkoff pointed towards Allers, jokily mentioning he was the father. They concluded their answer with Minkoff muttering into his sleeve, that the general assumption was that Nala's father was "either Scar or...Mufasa."
According to Tom Bancroft, one of the lead animators for The Lion King, the issues of Nala's father was brought up very late, and eventually ignored as they figured no one would notice him not being there.