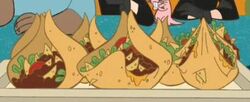 A
Naco
is a food featured in the animated television show
Kim Possible
.
History
A Naco is a combination of nachos and a taco, served at Bueno Nacho. It is created by taking nacho chips and cheese, mixing them with the fillings of a taco, placing it all in a tortilla, and lifting up the sides to form the bag-like shape. The Naco was invented by Kim's sidekick, Ron.
In the episode "Ron Millionaire", through the vast popularity of the Naco, Ron received a royalties check for 99 million dollars one year after his invention: "A nickel for every Naco sold". That equates to almost two billion Nacos sold in one year (specifically 1,980,000,000).
In the episode "Go Team Go", it is stated that the new Mucho Grande Bueno Nacho store does not serve the Naco, because "the Naco didn't test well". However, its status at other currently existing locations has yet to be revealed.
Gallery
Ad blocker interference detected!
Wikia is a free-to-use site that makes money from advertising. We have a modified experience for viewers using ad blockers

Wikia is not accessible if you've made further modifications. Remove the custom ad blocker rule(s) and the page will load as expected.