"My Mischievous Son" is the sixteenth episode of the second season of Penn Zero: Part-Time Hero. It premiered on July 24, 2017.
Synopsis
Mr. Wright (Penn Zero) must make sure that dinner with the boss goes well in a Sitcom World and make sure that his mischievous son Max (Rippen) doesn't play any prank jokes.
Trivia
This episode references to iCarly, Victorious, Drake & Josh, Henry Danger, The Thundermans Game Shakers from Nickelodeon Sitcom shows. Also That's So Raven, Cory in the House, Good Luck Charlie, from Disney sitcom shows.
This episode references to 80's sitcoms show from Family Ties (1982), Who's the Boss? (1984), Family Matters (1989), Perfect Strangers (1986), and Full House (1987).
The mischievous son is named Max Wright. That was also the name of the actor (Max Wright) who played the father on the '80s sitcom ALF (1986).
Gallery
v - e - d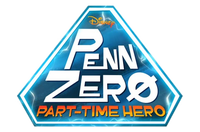 Locations
Middleburg • Middleburg Central High • The Odyssey • Fish Stick on a Stick • North Pole • Knight World • Superhero World • Arabian World • Plush Toy World • Clown World • Dinosaur Cowboy World • Cereal World • Old English World • Giant Monster World • Zombie World • Space World • Ocean World • Color World • Musical Fairy Tale World • Caveman Spy World • Future Barbarian World • Ultrahyperball World • Demon World • Alien World • Galaxy World • Temple World • Dragon World • Gothic Mystery World • Plant World • Animal Barbarian World • Toy World • Outer Space Court World • Robot World • Pirate World • Fairymania World • Steampunk World • Ball World • Ghost World • Rock, Paper, Scissor World • Beast World • Anime World • Sitcom World • Nothingness • Most Dangerous World Imaginable • Least Dangerous World Imaginable
Objects
Multi-Universe Hologram Uplink • Multi-Universe Transprojector • Pigoilet • The QPC Unit • Vortex Tops • Specs