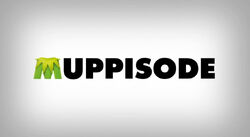 Muppisodes are a series of online videos by The Muppets Studio in December 2013 to promote Muppets Most Wanted. They were uploaded on Disney.com as well as other social media and news websites.
The first short called "Food Fight" debuted on BuzzFeed and Disney.com on December 5, 2013 and features Gordon Ramsay challenging The Swedish Chef to a food truck cook-off. Ross Lynch and Maia Mitchell also made cameo appearances.
On December 3, the official WWE YouTube channel uploaded a behind-the-scenes preview of the video featuring The Miz and the Swedish Chef filmed on the same set as "Food Fight". The video appeared on the WWE's website and YouTube channel on December 6.
The second Muppisode, "Holiday Harmony", premiered on Disney.com on December 11. It recycled the "Ringing of the Bells" YouTube video from 2009 as a "Throwback Muppisode" featuring the new Muppisode opening with Kermit and Statler and Waldorf's closing part replaced with the promotion for Muppets Most Wanted.
Gallery