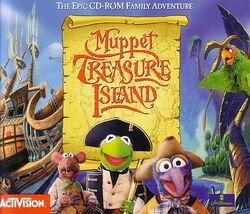 Muppet Treasure Island was a CD-ROM game for the Windows PC, produced in 1996 by Activision to tie in with the release of Muppet Treasure Island.
In the game, the player is "Hawkins," who leaves the Admiral Benbow Inn to sail to Treasure Island. Gonzo and Rizzo accompany the player -- and so does Stevenson the Parrot, a new Muppet character who provides hints throughout the game. The Muppet characters are seen as video clips overlaid on an animated background.
The voices in the game were performed by the Muppet performers: Frank Oz, Steve Whitmire, Dave Goelz, Jerry Nelson, Kevin Clash, Bill Barretta, Bruce Lanoil, John Kennedy, Louise Gold, and Mark Mansfield.
The lead writer was Larry Kay, with dialogue by Craig Shemin, Ray De Laurentis and Mark Loparco.