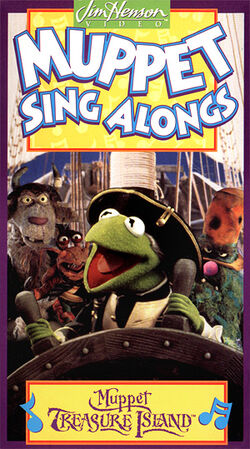 Muppet Sing Alongs: Muppet Treasure Island is a 1996 video produced just before the release of the feature film Muppet Treasure Island. Kermit is joined by Polly Lobster, Clueless Morgan, Mad Monty and the other pirates from Muppet Treasure Island in this half hour of pirate songs. The Wild Boars also make an appearance.
The video features two songs from the movie and seven new songs, with the lyrics at the bottom of the screen.
Song List
I'm a Little Pirate
I'm a Rock
Truffle Shuffle
Performers
Credits
Trivia
For some reason, many Disney VHS from 1996 showed a preview of this video under the Disney's Sing-Along Songs video series. But in reality, it was released as a Muppet Sing-Alongs video.