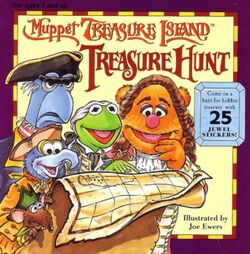 Muppet Treasure Island: Treasure Hunt is a storybook published as a tie-in with the 1996 film Muppet Treasure Island.
Description
Twenty-five shiny jewel stickers and lots of hidden pictures lead kids on a treasure hunt--just like in the Muppet movie! From the Admiral Benbow Inn to the docks, through island jungles to a camp of wild boars, rhyming clues on each spread guide readers to a jewel box, a crown, a golden chalice--and finally to the fabulous treasure!
Details
Paperback
Publisher: Grosset & Dunlap (January 9, 1996)
Language: English
ISBN-10: 0448412772
ISBN-13: 978-0448412771
Ad blocker interference detected!
Wikia is a free-to-use site that makes money from advertising. We have a modified experience for viewers using ad blockers

Wikia is not accessible if you've made further modifications. Remove the custom ad blocker rule(s) and the page will load as expected.