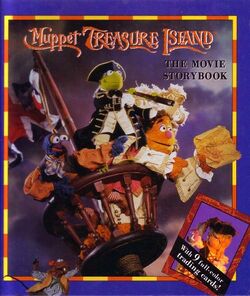 Muppet Treasure Island: The Movie Storybook is a 1996 storybook adaptation of the film Muppet Treasure Island. The hardcover book is illustrated with photographs from the film.
Description
Jim Hawkins's humdrum life is turned upside down when a dying pirate gives him a treasure map, and he joins the Muppets on a whimsical and wild adventure in search of the hidden gold and jewels. Movie tie-in.
Details
Hardcover: 30 pages
Publisher: Grosset & Dunlap (January 9, 1996)
Language: English
ISBN-10: 0448412802
ISBN-13: 978-0448412801
Translations
Ad blocker interference detected!
Wikia is a free-to-use site that makes money from advertising. We have a modified experience for viewers using ad blockers

Wikia is not accessible if you've made further modifications. Remove the custom ad blocker rule(s) and the page will load as expected.