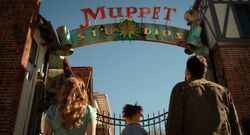 Muppet Studios was a central location in the film The Muppets. The studio is located in Hollywood, just off of Hollywood Boulevard. Walter, Gary, and Mary visit the now-decrepit studio on their vacation. The studio tour guide (Alan Arkin) says that Muppet Studios is "where dreams can come true." Tours (originally 50¢) are now $1.50 and poorly attended (the only other attendees are a group of dimwitted Japanese tourists who think they are on a Universal Studios tour).
The central feature of the studio is The Muppet Theater, home of The Muppet Show.
A geological survey (along with Tex Richman's sense of smell) says there is oil under the studio. Richman tries to get ownership of the studio under the guise of turning the studio into a Muppet museum.
The Muppets reunite in an attempt to raise the money needed to save the studio.
Signs and locations within the studio include:
Commissary
Dr. Honeydew's Laboratory of Fun
Electrical Dept.
Fozzie's Joke Room
Gonzo's Cannonade
Rowlf's Music Parlor
Wire & Rope Room
In the film's opening sequence, Walter receives the Muppet Studios Official Guide book for his birthday. The "Muppet Studios Tour Map" in the book shows such additional locations as:
Art Alley
Beaker's World
Buffoon Lagoon
Fozzie's Joke Corner
Miss Piggy's Conture Tour
Miss Piggy Plaza
The exterior scenes for Muppet Studios were filmed at the Jim Henson Company Lot, with the exteriors of the Muppet Theater being filmed at the El Capitan Theatre.