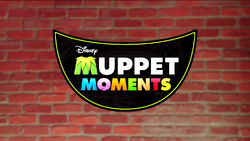 Muppet Moments was interstitial short series to air on Disney Junior starting April 3, 2015.[1] New shorts are going to air daily until May 3 and subsequent episodes will be planned for the rest of 2015.
The shorts will feature the main Muppets cast (including Kermit the Frog, Miss Piggy, Fozzie Bear, Gonzo, Animal, Dr. Bunsen Honeydew, Beaker, Pepe the King Prawn, the Muppet Newsman, Bobo the Bear, Sam the Eagle, Rowlf the Dog, Bubba the Rat, Rizzo the Rat, Foo-Foo and Beauregard) interviewing real kids about various different things, such as apologies, favorite foods and manners.
The shorts were directed by Bill Barretta.[2]
Gallery
References
↑ WATCH: 'Muppet Moments' Short-Form Series Coming to Disney Junior in April http://www.stitchkingdom.com
↑ Schmooze: October 6, 2014 broadcastingcable.com
Ad blocker interference detected!
Wikia is a free-to-use site that makes money from advertising. We have a modified experience for viewers using ad blockers

Wikia is not accessible if you've made further modifications. Remove the custom ad blocker rule(s) and the page will load as expected.