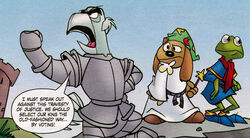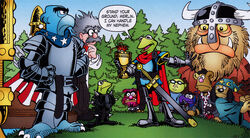 Muppet King Arthur is the third "Muppet Classics" 4-issue comic book mini-series published by Boom! Studios. As the title suggests, it is an adaptation of the story of King Arthur with the Muppet characters.
Cast
Miss Piggy - Morgana le Fay
Sam the Eagle - Sir Sam of Eagle
Robin the Frog - Mordred
Fozzie Bear - Sir Percival
Gonzo the Great - Sir Lancelot
Camilla the Chicken - Lady Guinevere
Animal - Sir Gawain
Muppet cameos include: Delbert the La Choy Dragon (on a shield), a Skeksis from The Dark Crystal, Lew Zealand, Zoot, Floyd Pepper, Dr. Teeth, Slim Wilson, Statler and Waldorf, Pigs, Penguins, Rizzo the Rat, Seymour the Elephant, Foo-Foo, Sweetums, Link Hogthrob, Dr. Julius Strangepork, Clueless Morgan, Catgut the Cat from The Muppet Musicians of Bremen, Leroy the Donkey from The Muppet Musicians of Bremen, T.R. the Rooster from The Muppet Musicians of Bremen, Rover Joe the Dog from The Muppet Musicians of Bremen, Mahna Mahna, the Snowths, Beauregard, Dr. Bunsen Honeydew, Beaker, Gaffer the Cat, Sir Cumnavigate, Teporter, Sir Mount, Crickets, Geri and the Atrics, Baskerville the Hound, Sir Render, Susan Boil, Swedish Chef, Sal Minella, Bobo the Bear, Hilda, Mildred Huxtetter, Angel Marie, Doglion, Camels, Camel Lot Owner, Tin Man, a Dragon, Scooter, Pepe the King Prawn, Professor Phineas A. Plot, Angus McGonagle, Lips, Quongo the Gorilla, Thog, Kangaroo, Marvin Suggs, Louis Kazagger, Crazy Harry, Uncle Deadly, Bobby Benson, Koozebanian Phoob, Mean Mama, Lou, Gladys, Jim, Pops, Whatnots, The Frackles, Cows and Horses.
Gallery