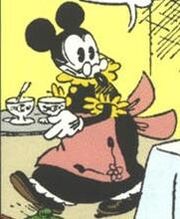 Mrs. Mouse
is
Minnie Mouse
's mother and
Marcus Mouse
's wife. She has at least one child other than Minnie, given that the latter is aunt of a nephew and several nieces. She made her comic debut
in
Mr. Slicker and the Egg Robbers.
Although her first name was never mentoined in the original version, the French translation lists her full name as
Margie Mouse
.
Mrs. Mouse does not have a prominent role in the story, is devoted to the home and the farm, and strives to make savings given the difficult times for the family. Physically she is quite tall (taller than Minnie and Mickey Mouse) and has a more elongated snout. She wears a long dress and an apron, and wears glasses. In her second appearance in the 1931 Mickey Mouse newspaper comic Boxing Champion, she can be seen using a hearing accessory, similar to the one Daisy's mother has.
External links
Ad blocker interference detected!
Wikia is a free-to-use site that makes money from advertising. We have a modified experience for viewers using ad blockers

Wikia is not accessible if you've made further modifications. Remove the custom ad blocker rule(s) and the page will load as expected.