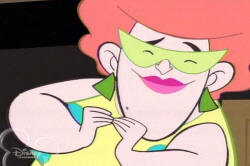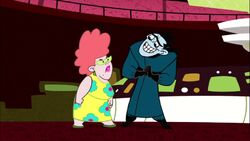 Mrs. Lipsky is the mother of Dr. Drakken from Kim Possible. She is voiced by Estelle Harris[1][2].
History
Mrs. Lipsky is the mother of Dr. Drakken, or - as she calls him - Drewbie. She believes her son is a radio talk show doctor who spends his time helping people with their problems. Drakken is unwilling to tell her the true nature of his profession, preferring that she should just find out when he actually takes over the world. She is very affectionate toward her son, who is, in turn, clearly very fond of her (if occasionally embarrassed by the way she tends to treat him). She seems to want him to get married soon, and also thinks Shego is his girlfriend.
References
Ad blocker interference detected!
Wikia is a free-to-use site that makes money from advertising. We have a modified experience for viewers using ad blockers

Wikia is not accessible if you've made further modifications. Remove the custom ad blocker rule(s) and the page will load as expected.