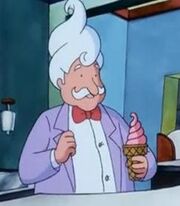 Mr. Swirly
is a character in
Doug
. He was voiced by Bruce Bayley Johnson.
The owner of Swirly's Ice Cream. He seems to be unsure what to do in dire situations, and, in at least one episode of the Nickelodeon series, didn't seem to be aware that chocolate and cement don't mix, or that he was responsible for it. In the Disney series, he had a more prominent role as the owner of a new Swirly's restaurant that immediately became the new hangout for Doug and his friends.
Ad blocker interference detected!
Wikia is a free-to-use site that makes money from advertising. We have a modified experience for viewers using ad blockers

Wikia is not accessible if you've made further modifications. Remove the custom ad blocker rule(s) and the page will load as expected.