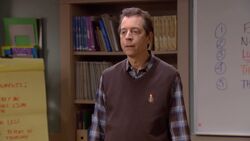 Mr. Starr is an English teach in Dog With a Blog. He's portrayed by Fred Stoller.
Character History
Mr. Starr is an English teach in Avery's class. The way he talks makes him a very bored and dull man. This may be hinted as he mention he has a brother who's more successful than him, he even stated he lives in his garage.
Trivia
In English, he was using a book known as Romeo and Juliet.
He lives in his brother's garage.
Ad blocker interference detected!
Wikia is a free-to-use site that makes money from advertising. We have a modified experience for viewers using ad blockers

Wikia is not accessible if you've made further modifications. Remove the custom ad blocker rule(s) and the page will load as expected.