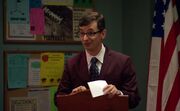 Mr. Beeds
is a school teach who hosted the X² Games. He's portrayed by Keith Gerchak.
History
To teach Karl a lesson about being nosy, Tyler and Avery devised a plan for Tyler to compete in the competition. Stan started making symbols through the window of the classroom, and Tyler pretended to read what he was saying. Karl then started yelling at the host to disqualify him, but he got disqualified for having poor sportsmanship.
Ad blocker interference detected!
Wikia is a free-to-use site that makes money from advertising. We have a modified experience for viewers using ad blockers

Wikia is not accessible if you've made further modifications. Remove the custom ad blocker rule(s) and the page will load as expected.