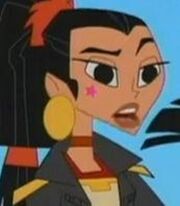 Moxie
is not really a bad girl, but is secretly a straight-A student. She makes one appearance in "
Girls Behaving Oddly
". In the episode,
Kuzco
appears to like her more than he does
Malina
. After Mr. Purutu reveals that Moxie's a straight-A student just like Malina is, and Moxie adds that she doesn't like being "hassled," so she prefers keeping her grades and schoolwork a secret.
Moxie was often seen accompanied by two other girls. These two girls make a non-speaking cameo in another episode, but Moxie herself has not appeared again since "Girls Behaving Oddly".
Ad blocker interference detected!
Wikia is a free-to-use site that makes money from advertising. We have a modified experience for viewers using ad blockers

Wikia is not accessible if you've made further modifications. Remove the custom ad blocker rule(s) and the page will load as expected.