The Mouseketeers were a group of children that starred in all 3 incarnations of The Mickey Mouse Club.
The 1950's Mouseketeers
There were 39 mouseketeers in total during this incarnation. (42 if you count the three adult leaders)
NOTE: (d.) indicates that this mouseketeer is deceased.
Here they are in alphabetical order:
Adults: (NOTE: THE ADULTS ARE NOT IN ALPHABETICAL ORDER)
The Kids:
The Nine Main Mouseketeers (All Three Seasons):
The Two Two's (Two Seasons):
All The Rest (One Season Or Less):
The 1970's Mouseketeers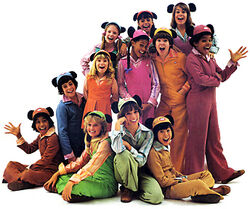 This cast was more diverse than the original. It featured 12 mouseketeers and no adult leaders.
The 1990's Mouseketeers
This cast featured 35 mouseketeers and 5 adult hosts. Unkile the previous 1950's and 1970's casts, this cast does not wear the traditional "mouseka-ears".