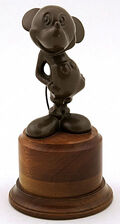 The Mousecar is an in-house award given by The Walt Disney Company for a variety of reasons, including service to the company as well as to the community as a whole. The award was first presented by Disney founder Walt Disney.[1]
In 2005, Riley Thomson's Mousecar was auctioned for $5,358.[2]
Origin of the word
"Mousecar" is a combination of the words "Oscar" and "Mouse" (as in Mickey Mouse).[3] Coincidentally, Time-Life, in its "Life in Hollywood" special issue magazine, credits Walt Disney with one of the first acknowledgments of the term "Oscar" when he accepted his award for Flowers and Trees in 1932.
List of recipients
Lucille Ogle
Elmo Williams
Roy P. Disney
See also
External links
References
↑ Lot #611: Gorgeous Inscribed "Mousecar" Award with Facsimile Roy and Walt Disney Signature on Plaque
| | |
| --- | --- |
| | This page uses content from the English Wikipedia. The article or pieces of the original article was at Mousecar. The list of authors can be seen in the page history. As with Disney Wiki, the text of Wikipedia is available under the GNU Free Documentation License. |
Ad blocker interference detected!
Wikia is a free-to-use site that makes money from advertising. We have a modified experience for viewers using ad blockers

Wikia is not accessible if you've made further modifications. Remove the custom ad blocker rule(s) and the page will load as expected.