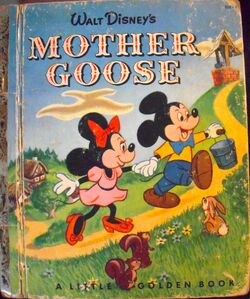 Mother Goose is a Little Golden Book featuring re-enactments of Mother Goose nursery rhymes starring the characters from the Mickey Mouse and Silly Symphonies series, as well as some of Disney's early animated features.
Trivia
Although many of the rhymes were used in all of the publications (rather in a Little Golden Book, hardcover publishing, or in a storybook) there were some rhymes that didn't appear in some of the publications while other publications did have them.
Details
Hardcover
Publisher: Simon & Schuster (1949)
ASIN: B004VT6S8Y
Gallery
Ad blocker interference detected!
Wikia is a free-to-use site that makes money from advertising. We have a modified experience for viewers using ad blockers

Wikia is not accessible if you've made further modifications. Remove the custom ad blocker rule(s) and the page will load as expected.