"Even miracles take a little time."
This article features media from Disney or its subsidiaries that has yet to be released.
To prevent speculation, please add reliable sources to the unreleased media. Any information that is not backed up by citations may be removed.
Thank you!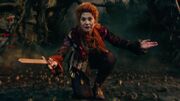 Mother Ginger is the main antagonist in The Nutcracker and the Four Realms, played by Helen Mirren. She is an evil sorceress who rules the Fourth Realm and wants to take over all other three realms. To that end, she is opposed by the lost princess, Clara, who is the daughter of a wise and benevolent ruler who opposed Mother Ginger and helped bring peace to the three realms.
Gallery
v - e - d
Characters
Clara • Mother Ginger