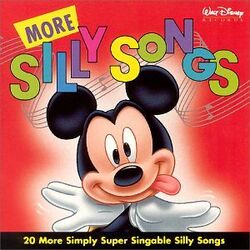 More Silly Songs is a 1998 Walt Disney Records album featuring 20 more funny songs.
Details
Audio CD (April 14, 1998)
Original Release Date: April 7, 1998
Number of Discs: 1
Label: Walt Disney Records
ASIN: B0000061CP
Track listing
I Scream, You Scream, We All Scream For Ice Cream
Splish Splash
On Top Of Spaghetti
The Name Game
Polly Wolly Doodle
The Purple People Eater
Honk, Honk Waddling Song
Let's All Roar Tonight
Cupcakes And Lemonade
Does Your Chewing Gum Lose Its Flavor (On The Bedpost Overnight)?
Vacuum Cleaner Hoses
The Good News Is...
Pop, Goes The Weasel
It's A Sunny, Sunny Day!
I Know An Old Lady Who Swallowed A Fly
Ukulele Song
Goldilocks And The Three Bears
I'm In Love With A Big Blue Frog
Happiness
Ad blocker interference detected!
Wikia is a free-to-use site that makes money from advertising. We have a modified experience for viewers using ad blockers

Wikia is not accessible if you've made further modifications. Remove the custom ad blocker rule(s) and the page will load as expected.