More Jungle Book... Further Adventures of Baloo and Mowgli
Comments

0
Share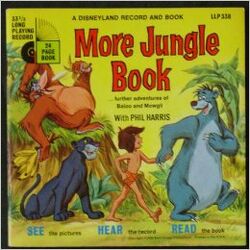 More Jungle Book is a Jungle Book storybook released on book and vinyl as a part of the Disney Read-Along series and as a Little Golden Book. The album was released as a testing ground to see if people wanted to see another movie with the characters. When the record sold poorly, all plans to make a sequel to the movie were held off until 2002.
Releases
Book and Vinyl
Little Golden Book
Track listing
Side A
Side B
Gallery
Ad blocker interference detected!
Wikia is a free-to-use site that makes money from advertising. We have a modified experience for viewers using ad blockers

Wikia is not accessible if you've made further modifications. Remove the custom ad blocker rule(s) and the page will load as expected.