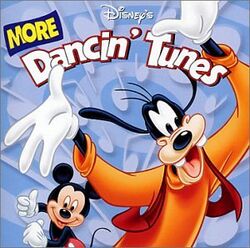 More Dancin' Tunes is a 2002 Walt Disney Records album featuring more songs about dancing.
Details
Audio CD (May 21, 2002)
Number of Discs: 1
Label: Walt Disney Records
ASIN: B000066F0C
Track listing
Twist And Shout
Do You Love Me? (Now That I Can Dance)
Twistin' The Night Away
Let's Dance
Limbo Rock
Hot, Hot, Hot
Hokey Pokey
Ducks Dance, Too
Splashdance
The Bunny Hop
The Clarinet Polka
Pluto's Waltz
Ad blocker interference detected!
Wikia is a free-to-use site that makes money from advertising. We have a modified experience for viewers using ad blockers

Wikia is not accessible if you've made further modifications. Remove the custom ad blocker rule(s) and the page will load as expected.