Ad blocker interference detected!
Wikia is a free-to-use site that makes money from advertising. We have a modified experience for viewers using ad blockers

Wikia is not accessible if you've made further modifications. Remove the custom ad blocker rule(s) and the page will load as expected.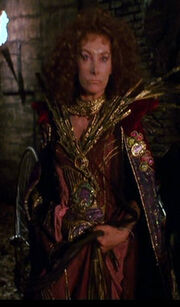 Mombi
is the secondary villain in
Return to Oz
. She was portrayed by
Jean Marsh
. She is inspired by the witch from the second Oz book Mombi and Princess Langwidere from the third Oz book. She wears a red and gold dress that spikes out at the top. What her real head looks like is unknown, due to her constantly putting on different heads from her collection. A red key is used to unlock the case in which she stores her heads. One time, she asked for 
Dorothy Gale
's head, and decided to lock her in her tower until Dorothy's head looked old enough to wear (due to Dorothy only being 11 years old in the film). In the tower, Dorothy meets
Jack Pumpkinhead
.
Gallery