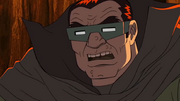 Mole Man
is the leader of the Mole people and a enemy of the
Fantastic Four
. His real name is Harvey Rupert Elder and was ridiculed of his hollow earth theories.
Hulk
encounters Mole Man where they have been captured by the giant Larvae-Beasts. A-Bomb comes to their aid where they discover that the Larvae-Beast eggs were placed upon a floor with lava underneath for incubation. Mole Man also informs them that they will also have to deal with the Queen Larvae-Beast before any more of the Larvae-Beasts can make it to the surface. Mole Man uses the Moloids to help fight the Queen Larvae-Beast. After the Queen Larvae-Beasts are defeated, Mole Man and the Moloids return to Subterranea.
Mole Man was created by Stan Lee and Jack Kirby.