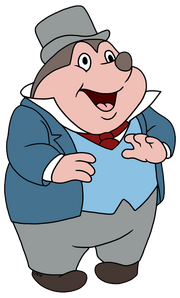 Mole 
is one of the minor characters from
Bambi
, he says goodmorning to Bambi, but he looks up at the sun, he says nice sunny day and then he dug in to the ground.  In the climatic film, he was seen again with his wife and twins, the dig to the thicket to gather around with animals to see faline and her newborn twins, the twins bunk into each other and popped out and rub their heads.
He was voiced by Otis Harlan, which was the actor's final role in film.
Ad blocker interference detected!
Wikia is a free-to-use site that makes money from advertising. We have a modified experience for viewers using ad blockers

Wikia is not accessible if you've made further modifications. Remove the custom ad blocker rule(s) and the page will load as expected.