"I am Mohatu, king of the Pride Lands."
―Mohatu to Crocodile
Mohatu is the king of the Pride Lands in The Brightest Star.
Background
Personality
Mohatu: "I have found a Great River from which we can all drink."
Various Animals: "Where is it? Where is it?"
Mohatu: "It is many miles away, across the plains, over the mountains, and through the forest. In order for us all to get there safely, we must have cooperation from everybody. As we travel, no one may harm any other animal. That is the only way we'll survive this difficult drought."
—Mohatu to his subjects
Mohatu was well known for being a wise king. He harbors a deep affection and loyalty toward his subjects, which was most prominent when he willingly leaves his homeland in search of a new water source for the Pride Lands. He was a peacemaker, but could also be firm in his decisions and orders. Many animals look up to him for his bravery and strength, but will occasionally overlook him because of his peaceful nature. He was ultimately selfless and quite intelligent in his own regard.
Physical Appearance
Mohatu had light brown fur and a thick brown mane with a small, distinguishing curl on the right side near his forehead. He had two tufts of darker fur on both elbows and a dark brown tail tuft. His underbelly, muzzle and paws were a light beige and his eyes were sandy-orange. As far as build goes, Mohatu greatly resembles his grandson Mufasa, although on closer inspection, he had Simba's facial features.
Appearances
The Brightest Star
"Good night, great-grandfather. I hope I grow up to be just like you."
―Simba to Mohatu's star
In the beginning of The Brightest Star, Simba spots a particularly big and bright star in the night sky. Mufasa tells Simba that it was Mohatu, a king of the past, the lion who ruled before Ahadi. Simba asks how his spirit became a star, and Mufasa tells his son the story.
In Mohatu's day, there was a terrible drought. In order to spread rations fairly, Mohatu made a law about how much water each animal could drink. He also proclaimed that lions should be the last to get their share, as they could go days without water. The law was put into effect and the animals survived. But then one day, a selfish and lazy lion came to the water hole and drank more than his fill. Many animals stood in the distance, waiting for him to finish. But when one approached him, asking if she could get a drink, the lion lunged at her and scared off the remaining animals. When Mohatu heard the news, he was outraged. He asked himself how they could survive if one of his own kind couldn't cooperate. As the drought worsened and the remaining water grew smaller, Mohatu called the animals to Pride Rock and told them that he would going on a long journey to find a solution to their problems.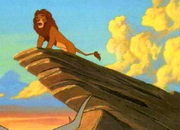 He set out on the journey and walked long and far. Finally, he reached a lush jungle, which appears to be the same oasis where Timon and Pumbaa made their home many years later. After getting a drink from the river, Mohatu laid down in the shade for a brief rest. But as he is napping, he hears the sound of someone crying. Curious, he goes in for a better look. Upon reaching the river, he sees a massive crocodile sitting in the water, crying. He asks him what's wrong, and the crocodile swims to the bank. Mohatu sees just how enormous and powerful he really is, and if he hadn't been the brave king that he was, he would have been terrified.
The crocodile tells Mohatu that "he was a kind lion to ask." He then goes on to explain that he was lonely, for he scared everyone away from the watering hole. Mohatu asks if he'd ever given the animals a reason to fear him, and the crocodile admits that he had once snapped at Hippo's tail. Mohatu tells him that it was no wonder they were afraid, and that he needed to earn their trust again. The crocodile asks how he could do that, if no one came to the river. Mohatu tells him that he would take care of it, and then introduces himself as king of the Pride Lands. After leaving the river, Mohatu runs into Hippo. He asks Hippo why he isn't in the river, and the hippopotamus admits that she is scared of Crocodile. Mohatu then bumps into a wildebeest and asks him the same question. The wildebeest tells him that in order to get to the river, he must pass by Hippo, who he is afraid of. Mohatu then speaks to a zebra, who tells him that he hid among the wildebeests in constant fear of lions. If the wildebeest wouldn't go to the river, then neither will the zebras.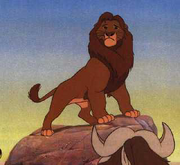 After hearing many accounts from the animals, Mohatu thinks to himself that these animals had the same problem as his own animals: they didn't trust each other. Figuring out a solution to the problem, he journeys home. Upon reaching the Pride Lands, the animals gather around him and ask him what he has found out. The king tells the animals that he had found a Great River from which they could drink. The animals cheer and ask where it was. Mohatu tells them that it is a long way away from their home, and that in order to survive, they needed to cooperate with one another. No animal was to harm another during the journey.
A zebra speaks up, reminding the king that the last law didn't prevail and that it had been one of Mohatu's own kind who had broken it. He proclaims that he didn't trust the selfish lion and would not go without the protection of the wildebeests. The wildebeests refuse to go in fear of the hippos who live in the river. A hippopotamus storms up to them and proclaims that it was the crocodiles who were to be feared. As Mohatu tries to explain about Crocodile, the animals get into a huge uproar and Mohatu must roar for silence. Zebra speaks again, telling Mohatu that it was every animal for himself. Whoever got there first got as much water as they liked. Without another word, he galloped away. The animals immediately take off after Zebra, and it was such a sight, that Mohatu would never forget it. The battle to the waterhole is fierce, but Zebra finally wins the competition. After reaching the waterhole, he begins to drink from the lush water. But then he realizes that he is steadily sinking into quicksand. The other animals try to help him, but to no avail.
At the last moment, Mohatu catches up to them, carrying Cheetah on his back, who had fallen in the rush to the waterhole. The animals beg him to help Zebra, but Mohatu can do nothing, as Zebra is too deep in the quicksand. Mohatu then gets an idea and calls to the crocodile who lived in the Great River. But to everyone's surprise, a very big and mean-looking crocodile approaches the bank, asking the king what he wanted. Mohatu explains to the crocodile that zebra is sinking and is in need of help. Crocodile swims closer to examine the situation and proclaims that he knows how to help zebra. Climbing onto the bank, he gets a firm grip on the ground and gives Zebra his tail. Zebra takes hold of it and Crocodile pulls him to shore.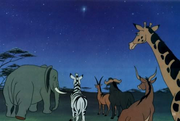 Zebra thanks Crocodile profusely and Crocodile proudly accepts his thanks. But as Zebra is about to walk away, Mohatu reminds him that he owed Cheetah an apology for kicking him on the way to the waterhole. He adds that he should also make sure that Cheetah got home safely, too. Zebra apologizes and Cheetah accepts his apology. The Pridelanders then drink their fill from the river. When they're done, they wish Crocodile a fond farewell. From that day forward, the animals of the Pride Lands journey to the jungle oasis to get their share of water. But when a great rain comes and the Pride Lands becomes lush and green again, the animals no longer have a need to return to the Great River.
But Mohatu never forgot the friends he had made there. He would occasionally visit Crocodile, where he would see hippos, zebras, and wildebeests at the river's shores. Mohatu ruled for a very long time, perhaps the longest of any king, and grew very old. But one winter's eve, he died. All his subjects wept for the loss of their king. Many felt lost without him and fighting arose among them again. But just as all hope was lost, a star appeared in the sky. Bigger and brighter than the rest. The animals grew peaceful and felt the same way they had when Crocodile had first let them drink from his great river. They knew it was the spirit of their king, who was still watching over them from the stars.
After the story is complete, Simba tells his father that he wished Mohatu could still be with them. Mufasa explains to his son that Mohatu still is with them, at least in spirit. He was there to remind them to love and respect each other, no matter their differences. Mufasa then proclaims that it was time to go to bed. As they're leaving, Simba says good-night to his great-grandfather's star, and tells him that he wanted to grow up to be just like him. Mufasa smiles proudly at his son and they file down Pride Rock.
Fight for the Throne
In answer to his son's question about why lions rule the Pride Lands, Simba explains that it's always been this way, as his many ancestors, including Mohatu, ruled before him.
Gallery
v - e - d
Episodes
Timon & Pumbaa
Season One: "Boara Boara" • "Saskatchewan Catch" • "Kenya Be My Friend?" • "Good Mousekeeping" • "Brazil Nuts" • "South Sea Sick/The Lion Sleeps Tonight" • "Never Everglades" • "Cooked Goose" • "Yukon Con" • "Doubt of Africa" • "How to Beat the High Costa Rica" • "Swiss Missed" • "Russia Hour" • "You Ghana Join the Club" • "Uganda Be an Elephant" • "To Kilimanjaro Bird" • "Rocky Mountain Lie" • "Amazon Quiver" • "French Fried" • "Big Top Breakfast" • "Madagascar About You" • "Truth or Zaire/Yummy, Yummy, Yummy" • "Mojave Desserted" • "Beauty and the Wildebeest" • "Don't Break the China" • "Can't Take a Yolk" • "Stand by Me" • "The Pain in Spain" • "Frantic Atlantic" • "Unlucky in Lesotho" • "Rafiki's Apprentice" • "Tanzania Zany" • "Guatemala Malarkey" • "Mombasa-In-Law" • "TV Dinner" • "Back Out in the Outback" • "Gabon with the Wind" • "Timon's Time Togo" • "The Law of the Jungle" • "Manhattan Mishap" • "Paraguay Parable" • "Be More Pacific" • "Going Uruguay" • "Let's Serengeti Out of Here" • "Congo on Like This" • "Okay Bayou?" • "Shake Your Djibouti" • "Yosemite Remedy" • "The Sky is Calling" • "Mozam-Beaked" • "Ocean Commotion"
Season Two: "Palm Beached" • "Jamaica Mistake?" • "Oregon Astray" • "New Guinea Pig" • "Isle of Manhood" • "Puttin' on the Brits" • "Klondike Con" • "Isle Find Out" • "Beetle Romania" • "Rumble in the Jungle" • "Wide Awake in Wonderland" • "Zazu's Off-by-One Day" • "Animal Barn" • "Roach Hotel" • "Africa-Dabra!" • "I Don't Bolivia" • "Shopping Mauled" • "Library Brouhaha" • "Catch Me if You Kenya" • "Scent of the South" • "Monster Massachusetts" • "Handle with Caribbean" • "Forbidden Pumbaa" • "Washington Applesauce" • "Alcatraz Mataz" • "Oahu Wahoo" • "I Think I Canada" • "Zazu's Off Day Off" • "Beast of Eden" • "Sense & Senegambia" • "Timon on the Range" • "The Man from J.U.N.G.L.E." • "Maine-Iacs" • "Fiji-Fi-Fo-Fum" • "Rome Alone" • "Amusement Bark" • "Once Upon a Timon" • "Home is Where the Hog Is" • "Beethoven's Whiff" • "Bumble in the Jungle" • "Mind Over Matterhorn"
Season Three: "Whiff" • "To Be Bee or Not to Be Bee" • "Luck Be a Meerkat" • "Just When You Thought You'd Cuisine it All" • "Lemonade Stand Off" • "Big Jungle Game" • "Boo Hoo Bouquet" • "So Sumo Me" • "Now Museum, Now You Don't" • "Visiting Pig-nitaries" • "The Truth About Kats and Hogs" • "Escape from Newark" • "Truth Be Told" • "Circus Jerks" • "Nest Best Thing" • "Super Hog-O" • "Don't Have the Vegas Idea" • "Hot Enough for Ya?" • "Werehog of London" • "Bigfoot, Littlebrain" • "Astro-Nots" • "Robin Hoodwinked" • "Seregenti Western" • "All Pets are Off" • "Two for the Zoo" • "The Swine in the Stone" • "You May Have Already Won Six Million Bakra" • "My Meteor, My Friend" • "Jungle Slickers" • "Don't Wake the Neighbear" • "Recipe for Disaster" • "Going Over-Boar'd" • "Ivy Beleaguered" • "Broadway Bound & Gagged" • "Steel Hog" • "Dealer's Choice Cut" • "Space Ham" • "You Bet Your Tukhus" • "No-Good Samaritan" • "Living in De Nile" • "One Tough Bug" • "Pirates of Pumbzance" • "Miss Perfect" • "Hakuna Matata U." • "Pig-Malion" • "Why No Rhino" • "War Hogs" • "The Big No Sleep" • "Common Scents" • "Mister Twister" • "Don't Be Elfish" • "Lights, Camera, Traction" • "The Running of the Bullies" • "Special Defects" • "Wishy Washy" • "Ice Escapades" • "Guru-Some" • "Jailhouse Shock" • "Nearly Departed" • "Early Bird Watchers" • "The Spy's the Limit" • "Ready, Aim, Fire" • "Timoncchio" • "Ghost Boosters" • "Stay Away from my Honey!" • "Sitting Pretty Awful" • "He's a Bad, Bad, Bad Sport" • "Dapper Duck Burgers" • "It Runs Good" • "Hot Air Buffoons" • "Timon in Love" • "Kahuna Potato" • "Mook Island" • "Cliphangers"
The Lion Guard
Season One: "Never Judge a Hyena by its Spots" • "The Rise of Makuu" • ""Bunga the Wise" • "Can't Wait to be Queen" • "Eye of the Beholder" • "The Kupatana Celebration" • "Fuli's New Family" • "The Search for Utamu" • "Follow That Hippo!" • "Call of the Drongo" • "Paintings and Predictions" • "The Mbali Fields Migration" • "Bunga and the King" • "The Imaginary Okapi" • "Too Many Termites" • "The Trouble With Galagos" • "Janja's New Crew" • "Baboons!" • "Beware the Zimwi" • "Lions of the Outlands" • "Never Roar Again" • "The Lost Gorillas" • "The Trail to Udugu" • "Ono's Idol" • "Beshte and the Hippo Lanes" • "Ono the Tickbird"
Season Two: "Babysitter Bunga" • "The Savannah Summit" • "The Traveling Baboon Show" • "Ono and the Egg" • "The Rise of Scar" • "Let Sleeping Crocs Lie" • "Swept Away" • "Rafiki's New Neighbors" • "Rescue in the Outlands" • "The Ukumbusho Tradition" • "The Bite of Kenge" • "Timon and Pumbaa's Christmas" • "The Morning Report" • "The Golden Zebra" • "The Little Guy" • "Divide and Conquer"