Mittington Random is the main antagonist of the Phineas and Ferb episode "The Klimpaloon Ultimatum".
Role
Random was known to be the founder and owner of his own swimwear line company, Random Swimwear. He also serves as the sponsor for the 4th Annual Tri-State Area Music Show Awards (or Tristies for short), to which he takes great delight in. When Candace and Love Handel are about sing out their new song, "The Ballad of Klimpaloon", one of the contestants named Slamm Hammer claimed that Klimpaloon doesn't exist. Candace Flynn stated that she did saw Klimpaloon once, but Mr. Random arrives and retorts at this, saying that if a fact-based song is called into question, evidence must be given and shown to the audience within the next 24 hours. In order to prove his point, Random orders Love Handel to locked up inside a soundproof room until the end of the show.
Determined to prove Klimpaloon's existence, Candace gets her brothers, Phineas and Ferb (along with their friends), to help her find Kimpaloon and bring him to the awards show. They head over to the Himalayas, where Candace mimics its voice to lure itself out from hiding. Little did the kids know that a shadowy figure is following them. And when Klimpaloon finally reveals himself to the kids, the shadowy figure captures it, revealing himself to be none other than Mr. Random himself posing as Slamm Hammer. He finally explains that he wanted to find Klimplaoon for years in order to enact his true plan: using Kimpaloon as a ticket to help him reinvigorate the sales of old-timey bathing suits and make a fortune out of it. And to do so, he needs to unravel of Kimpaloon's secrets; as of how is he able to stand and walk, and how he can talk. As Random flies off in a helicopter taking the captive Klimpaloon, the kids swore to rescue Kimpaloon and stop Random at his tracks.
The kids manage to track down Random's lair at the Himalayas, but having expected their arrival, Random sets several of his henchmen to capture the kids. The gang is then led into Random's lair, where there are several deformed Klimpaloon clones, much to the kids' horror. Also, Random has gotten himself a device that would seemingly extract Kimpaloon's life force, and he plans to infuse the life force into his latest swimwear line, which only disgusts Phineas. Fortunately, Ferb spots a plug and takes it off, causing a temporary blackout that allowed the kids to finally free Klimpaloon and make a hefty escape. Random orders his men to go after the kids and stop them, but the men aren't able to go out into the snow because they are wearing their bathing suits, which then forced Random to go off on his own.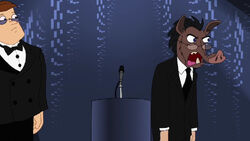 As the show is about to end, Love Handel is about to concede defeat, but the kids arrive and present out Klimpaloon to the audience. Candace then informs that Random is nothing more than a crook trying to kidnap Klimpaloon and use him for his sales gimmick, much to everyone's disbelief (mostly Lindana's). Even when Phineas and the kids confirm that Candace is telling the truth, Lindana is still not convinced. At that time, Candace and Love Handel finally play in their song, with Klimpaloon floating over the audience in a cable, resulting an outstanding ovation form the audience. As Random is fuming over the loss of his plan, he swears to get Klimaploon and rip him open for his sale gimmick, insulting over the consumers of being brainless creatures that would do anything to buy his products. Little did he find out that a microphone has picked his awful rant for everyone to hear, thus proving Candace's suspicions correct. Realizing this, Random heads to the podium and asks if everyone has heard it, to which they confirm. This results Random to finally lose his career, and at the same time, a timer inside the podium goes off and an elixir (made by Heinz Doofenshmirtz) sprays on Random, turning his head into that of a warthog. Angered and humiliated by this, Random walks away in defeat.
v - e - d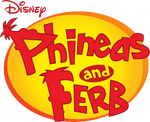 Episodes
Season One: "Rollercoaster" • "Candace Loses Her Head" • "The Fast and the Phineas" • "Lawn Gnome Beach Party of Terror" • "The Magnificent Few" • "S'Winter" • "Are You My Mummy?" • "Flop Starz" • "Raging Bully" • "Lights, Candace, Action!" • "Get That Bigfoot Outta My Face!" • "Tree to Get Ready" • "It's About Time!" • "Jerk De Soleil" • "Toy to the World" • "One Good Scare Ought to Do It!" • "A Hard Day's Knight" • "I, Brobot" • "Mom's Birthday" • "Journey to the Center of Candace" • "Run Away Runway" • "I Scream, You Scream" • "It's a Mud, Mud, Mud, Mud World" • "The Ballad of Badbeard" • "Dude, We're Getting the Band Back Together" • "Ready for the Bettys" • "The Flying Fishmonger" • "Phineas and Ferb Get Busted!" • "Greece Lightning" • "Leave the Busting to Us!" • "Crack That Whip" • "The Best Lazy Day Ever" • "Boyfriend From 27,000 B.C." • "Voyage to the Bottom of Buford" • "Put That Putter Away" • "Does This Duckbill Make Me Look Fat?" • "Traffic Cam Caper" • "Bowl-R-Ama Drama" • "The Monster of Phineas-n-Ferbenstein" • "Oil on Candace" • "Unfair Science Fair" • "Unfair Science Fair Redux (Another Story)" • "Out to Launch" • "Got Game?" • "Comet Kermillian" • "Out of Toon" • "Hail Doofania!"


Season Two: "The Lake Nose Monster" • "Interview With a Platypus" • "Tip of the Day" • "Attack of the 50 Foot Sister" • "Backyard Aquarium" • "Day of the Living Gelatin" • "Elementary My Dear Stacy" • "Don't Even Blink" • "Chez Platypus" • "Perry Lays an Egg" • "Gaming the System" • "The Chronicles of Meap" • "Thaddeus and Thor" • "De Plane! De Plane!" • "Let's Take a Quiz" • "At the Car Wash" • "Oh, There You Are, Perry" • "Swiss Family Phineas" • "Phineas and Ferb Musical Cliptastic Countdown" • "Phineas and Ferb's Quantum Boogaloo" • "Hide and Seek" • "That Sinking Feeling" • "The Baljeatles" • "Vanessassary Roughness" • "No More Bunny Business" • "Spa Day" • "Bubble Boys" • "Isabella and the Temple of Sap" • "Cheer Up Candace" • "Fireside Girl Jamboree" • "The Bully Code" • "Finding Mary McGuffin" • "What Do It Do?" • "Atlantis" • "Picture This" • "Nerdy Dancin'" • "I Was a Middle Aged Robot" • "Suddenly Suzy" • "Phineas and Ferb Christmas Vacation!" • "Undercover Carl" • "Hip Hip Parade" • "Just Passing Through" • "Candace's Big Day" • "Invasion of the Ferb Snatchers" • "Ain't No Kiddie Ride" • "Wizard of Odd" • "The Beak" • "Not Phineas and Ferb" • "Phineas and Ferb-Busters!" • "The Lizard Whisperer" • "Robot Rodeo" • "The Secret of Success" • "The Doof Side of the Moon" • "She's the Mayor" • "The Lemonade Stand" • "We Call it Maze" • "Ladies and Gentlemen, Meet Max Modem!" • "Nerds of a Feather" • "Phineas and Ferb Hawaiian Vacation" • "Split Personality" • "Brain Drain" • "Make Play" • "Candace Gets Busted" • "Summer Belongs to You!" • "Rollercoaster: The Musical!"
Season Three: "Run, Candace, Run" • "Last Train to Bustville" • "The Great Indoors" • "Canderemy" • "The Belly of the Beast" • "Moon Farm" • "Phineas' Birthday Clip-O-Rama!" • "Ask a Foolish Question" • "Misperceived Monotreme" • "Candace Disconnected" • "Magic Carpet Ride" • "Bad Hair Day" • "Meatloaf Surprise" • "Tri-Stone Area" • "Doof Dynasty" • "Phineas and Ferb Interrupted" • "A Real Boy" • "Mommy Can You Hear Me?" • "Road Trip" • "Skiddley Whiffers" • "Tour de Ferb" • "My Fair Goalie" • "Perry the Actorpus" • "Bullseye!" • "That's the Spirit" • "The Curse of Candace" • "Escape from Phineas Tower" • "The Remains of the Platypus" • "Ferb Latin" • "Lotsa Latkes" • "A Phineas and Ferb Family Christmas" • "What a Croc!" • "Ferb TV" • "Mom's in the House" • "Minor Monogram" • "Excaliferb" • "Monster from the Id" • "Gi-Ants" • "Agent Doof" • "Phineas and Ferb and the Temple of Juatchadoon" • "Delivery of Destiny" • "Let's Bounce" • "Quietest Day Ever" • "Bully Bromance Break Up" • "Doonkleberry Imperative" • "Buford Confidential" • "Sleepwalk Surprise" • "Sci-Fi Pie Fly" • "Meapless in Seattle" • "The Mom Attractor" • "Cranius Maximus" • "Sipping with the Enemy" • "Tri-State Treasure: Boot of Secrets" • "Doofapus" • "Norm Unleashed" • "When Worlds Collide" • "Road to Danville" • "Where's Perry?" • "Blackout!" • "What'd I Miss?" • "This is Your Backstory"
Season Four: "Fly On the Wall" • "My Sweet Ride" • "For Your Ice Only " • "Happy New Year!" • "Bully Bust" • "Backyard Hodge Podge" • "Der Kinderlumper" • "Just Desserts" • "Bee Day" • "Bee Story" • "Sidetracked" • "Knot My Problem" • "Mind Share" • "Primal Perry" • "La Candace-Cabra" • "Happy Birthday, Isabella" • "Great Balls of Water" • "Where's Pinky?" • "Mission Marvel" • "Thanks But No Thanks" • "Troy Story" • "Love at First Byte" • "One Good Turn" • "Cheers for Fears" • "Just Our Luck" • "Return Policy" • "Imperfect Storm" • "Steampunx" • "It's No Picnic" • "Terrifying Tri-State Trilogy of Terror" • "Druselsteinoween" • "Face Your Fear" • "The Klimpaloon Ultimatum" • "Doof 101" • "Father's Day" • "Operation Crumb Cake" • "Mandace" • "Tales from the Resistance: Back to the 2nd Dimension" • "The Return of the Rogue Rabbit" • "Live and Let Drive" • "Lost in Danville" • "The Inator Method" • "Act Your Age" • "Phineas and Ferb Save Summer" • "Night of the Living Pharmacists" • "Phineas and Ferb: Star Wars" • "Last Day of Summer" • "O.W.C.A. Files"