Ad blocker interference detected!
Wikia is a free-to-use site that makes money from advertising. We have a modified experience for viewers using ad blockers

Wikia is not accessible if you've made further modifications. Remove the custom ad blocker rule(s) and the page will load as expected.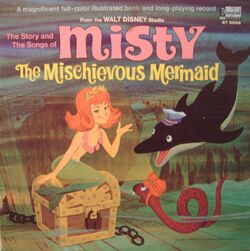 Misty the Mischievous Mermaid is a 1969 Disneyland Records storyteller LP that invites speculation about its source material. Hans Christian Andersen's The Little Mermaid was one of the last stories that Walt Disney considered as a feature film, so it is conceivable that a good amount of concept may have been done between that and the film's eventual release in 1989. Some of this early material may well have made its way onto the Misty LP. The story, recorded with a British cast, concerns itself more with pirates and treasure than the Andersen tale, but Misty has her share of undersea friends and even has the same red hair as Disney's Ariel (though Misty wears it in a 1960s-style hairdo).
Track listings
Side one
Misty The Mischievous Mermaid
Stick With Me
Give Me Your Hand
What'll We Do With The Money
Side two
Captain Spook's Song
It's Someone's Birthday
Misty The Mischievous Mermaid
Credits
Narrator, Vocals [Spoken Word] – Tony Brandon
Other [Original Story By] – Tony Adair
Vocals – Mike Sammes Singers, The*
Vocals [Spoken Word] – Carol Lorrimer, Peter Hawkins, Roland Pickering, Sally Milner, Ysanne Churchman
Gallery