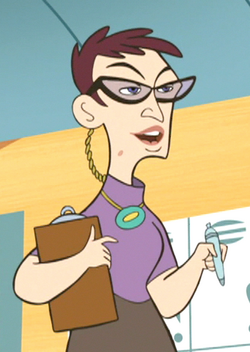 Miss Guidé
[1]
is a minor character on the television show
Kim Possible
. Her first appearance was in the episode "
Trading Faces
". She was voiced by
April Winchell
[2]
[3]
.
History
She is Jim and Tim Possible's S.K.I.P. counselor, at Middleton High School.
Equipment
Miss Guide is rarely seen without her clipboard and pencil taking notes on all that she observes.
Relationships
She seems to have a good relationship with the students under her guidance.
References
Ad blocker interference detected!
Wikia is a free-to-use site that makes money from advertising. We have a modified experience for viewers using ad blockers

Wikia is not accessible if you've made further modifications. Remove the custom ad blocker rule(s) and the page will load as expected.