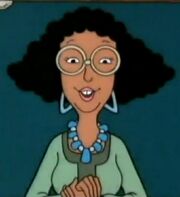 Miss Alordayne Grotke (voiced by Allyce Beasley) is the teacher of TJ's fourth grade class in the show Recess. She is adored by her pupils because she is possibly the only teacher who stands up for the kids. Miss Grotke loves to meditate and she has an over bite like Gretchen. Her hippie outlook is reflected in her appearance with her long robe-like dress. In Recess: School's Out, it is shown that she is secretly trained in some form of martial arts.
Gallery
Trivia
In Operation Field Trip, the codename that Miss Grotke uses to communicate with the dispatcher is "Earth Mama".
In Recess: School's Out, Miss Grotke was shown to be trained in some sort of martial arts.
References
Ad blocker interference detected!
Wikia is a free-to-use site that makes money from advertising. We have a modified experience for viewers using ad blockers

Wikia is not accessible if you've made further modifications. Remove the custom ad blocker rule(s) and the page will load as expected.