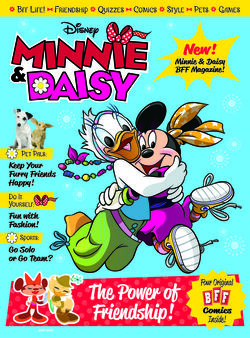 Minnie & Daisy BFF Magazine is a Disney children's magazine published by Disney Publishing Worldwide. It is made for girls between the ages of 6 and 8 and showcases the power of friendship and includes fun games, activities, posters, and adventures involving Minnie Mouse and Daisy Duck. Each issue also includes a mail section where readers can send Minnie and Daisy letters, questions, and drawings.
The comics published in the magazine are notably the first new comic stories in the United States to feature any characters from the Mickey Mouse and/or Donald Duck cartoons and comics since the final issue of Boom! Studios' Darkwing Duck comic in 2011.
Cover Gallery
Ad blocker interference detected!
Wikia is a free-to-use site that makes money from advertising. We have a modified experience for viewers using ad blockers

Wikia is not accessible if you've made further modifications. Remove the custom ad blocker rule(s) and the page will load as expected.