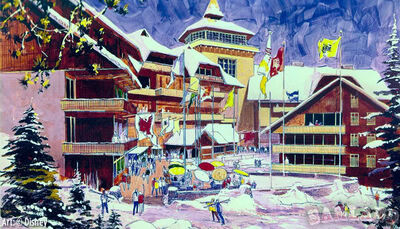 Disney's Mineral King Ski Resort
was a project developed by
Walt Disney
and
Company
in the 1960s. Disney had become interested in skiing around this time and decided to build a ski resort in the Mineral King Valley.
At the time, many skiers believed this to be the largest potential resort in all of California. Disney's bid won out over those of other developers, having the largest plans. Disney had also met renowned University of Denver and Olympic ski coach Willy Schaeffler and together they developed the village and mountain resort plans.
One of the major attractions at Mineral King was to be an audio-animatronic show featuring musical bears (a concept that evolved into Country Bear Jamboree).
After Walt's death, however, conservationist group The Sierra Club prevented Mineral King from being built and the project was cancelled, Mineral King Valley eventually becoming part of Sequoia National Park. However, the animatronic bear show that would've been part of the ski resort debuted as the Country Bear Jamboree at Walt Disney World's Magic Kingdom when that park opened in 1971.
| | |
| --- | --- |
| | This page uses content from the English Wikipedia. The article or pieces of the original article was at Mineral King. The list of authors can be seen in the page history. As with Disney Wiki, the text of Wikipedia is available under the GNU Free Documentation License. |