Milo Murphy's Law[2] is a Disney XD series that premiered on October 3, 2016[1], co-created by Phineas and Ferb creators Dan Povenmire and Jeff "Swampy" Marsh.[3]
Synopsis
The series will revolve around Milo Murphy, a boy who lives "a couple of neighborhoods over from Phineas and Ferb"[4], and is the descendant of the namesake of "Murphy's Law".
Milo is the personification of Murphy's Law where anything that can go wrong will go wrong. Suffering from Extreme Hereditary Murphy's Law condition (EHML), Milo always looks to make the best of the cards he's been dealt and his endless optimism and enthusiasm can turn any catastrophe into a wild adventure. Armed with knowledge, a backpack full of supplies and his fearless friends, Melissa and Zack, Milo is always prepared for every possibility. Together, he and his friends will learn that it's all about a positive attitude and not to sweat the big stuff… and it's all big stuff.
Cast
Trivia
Videos
Gallery
References
v - e - d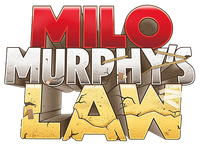 Locations
Swamp City • Jefferson County Middle School • Lard World
v - e - d
Disney Television Animation series
Ad blocker interference detected!
Wikia is a free-to-use site that makes money from advertising. We have a modified experience for viewers using ad blockers

Wikia is not accessible if you've made further modifications. Remove the custom ad blocker rule(s) and the page will load as expected.