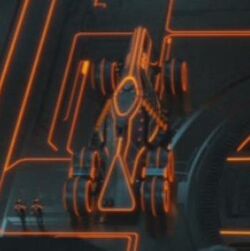 The
Military Vehicle
is a vehicle from
Tron: Legacy
. This vehicle was seen on the
Rectifier
, It is unknown what is it called, but it was going to be used with
Clu's
plan to take over the real world. It is unknown was it's exact function is, but it is probabbly used to transport people or weapons.
Description
It has six wheels, four in the back and two in the front. The wheels are about the same size as the sentries, making this a fairly large vehicle
Ad blocker interference detected!
Wikia is a free-to-use site that makes money from advertising. We have a modified experience for viewers using ad blockers

Wikia is not accessible if you've made further modifications. Remove the custom ad blocker rule(s) and the page will load as expected.